The Meeting of Myth and History in the Landscape of Turtle Mountain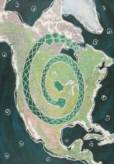 How strange it was that the settlers, my own people on both sides, too, could not see what was there all over the prairie. They'd used the stones to build dams and for foundations for their buildings, they'd picked them so they could farm "The circles always went first," Peter said, "because they were so easy to see." and yet, even knowing what they were doing, they didn't see. Beyond seeing, there was recognizing. I couldn't find a better word for what I meant; that a lot of people had lived here for a very long time, that they were not "picking rock" so they could farm, that they were dismantling the remains of a civilization. Every stone freighted with tears, with the weight of grief, they should have been too heavy to lift.
Sharon Butala, Wild Stone Heart. Toronto, Harper-Collins, 2000; p. 199
Table of Contents
---
The contents of this website are based on a presentation by James A. M. Ritchie to the ICOMOS-Canada Committee. Principal interpretive assistance contributed by Elder William Dumas, Cree. Astronomical interpretation based on work of Dr. John Eddy.
Research conducted at the Boissevain & Morton Regional Library and Community Archives on behalf of the Moncur Gallery. For information please contact the Moncur Gallery directly.
---
Copyright © 2002 Moncur Gallery. All Rights Reserved. Republished with permission.